This is our signature event and is always well attended. The 3D in the Redwoods shoot is on Sunday, June 16 (Fathers Day). Many volunteers are needed throughout the day. You could: prepare or serve breakfast or lunch, assist in the parking lot in the morning, registration, raffle, general help, and/or CLEAN UP after the event is ended! It takes quite a number of people to have a well-run shoot. No previous experience necessary as there will be many KMA members who can explain what needs be done. Volunteers get a free breakfast and lunch.
We are also looking for members to contribute potluck items such as salads, drinks or desserts. Anything is welcome and appreciated! You could bring the items to the work party the day before, to the 3D shoot, or a time can be arranged for drop-off at Palomo Archery.
If you would like to volunteer or contribute a potluck item, please contact us one of the following ways.
You can use SignUpGenius to register for a specific activity or donation: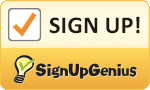 Or you can send an e-mail to: vp1@kingsmountainarchers.org
Or you can send a text to: (510) 220-4169
Support YOUR archery club! Volunteer or donate!
Thank you!
Cindy Vail, 3D in the Redwoods Organizer
Mike Anderson, Vice President 1 (Target)